I think someone who goes through a moment of doubt, uncertainty, problems personal, professionals, existentials, needs an relief valve. I also think that for those who work with design and art, or anything else that involves creativity, this valve is just create. Create just for the pleasure of creating. Without briefing, no pressure, no client, no pretense.
With me it was like this: I took the crisis, joined with good humor, design and pop culture references with a pinch of music and was born Rahma Projekt. caught crises, joined with good humor, design and pop culture references with a pinch of music and Creating what I like, the way I like, without worrying about having to give explanation or make sense. Nothing too innovative or genial, only a personal, conceptual and experimental project. The exhaust valve that joins two of my passions: design and music, especially rock.
But what was supposed to be just a personal thing and without pretense, a way to unwind and unplug the world for a while, ended up growing more than I expected. It seems that some people really liked and now you can find posters, pillows and even shower curtains(!) with what came out when I opened the valve.
If you want to know more just click on "On the news" and see what the people talk about Rahma Projekt.
About me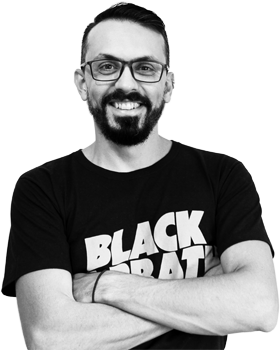 Hi, I'm Rafael Hoffmann - professor, designer and "carvoeiro" - and Rahma is my "illustrator alter ego", my almost secret identity. I have a degree in Advertising with a minor in Graphic Design and an MA in Language Sciences. I worked for almost 10 years with projects in graphic design and advertising and currently a full-time professor at the technical course in Visual Communication and graduations of Graphic Design and Advertising, both at Satc (Criciúma/SC). Although a bit away from the design market, you can find some of my work here.
Todos os direitos reservados | All rights reserved | 2011-2017
contato@rahmaprojekt.com | Criciúma | SC | Brasil